Best Raleigh Chiropractor
Reputation Built on Honesty & Results
A local Raleigh and independently owned chiropractic practice offers private adjusting rooms and gentle hands on chiropractic care. When you and or your family visit our clinic, you will be greeted by smiling faces who truly care about your well being. As a chiropractor, we strive to educate you on how chiropractic care is benefiting your health.
Located at: 5603 Duraleigh Rd #101, Raleigh NC 27612
The primary goal of Osborne Chiropractic Clinic is one we share with every patient, improving your health. Although some may consider our advanced chiropractic techniques "High Tech," nothing has been sacrificed in maintaining "high touch"
State of the Art Technology
Our Raleigh clinic is furnished with state of the art x-ray diagnosis, interpretation and physical therapy modalities to give the most optimum care possible for your condition. If you or someone you know has ever wondered about the benefits of chiropractic care, please call or visit our Raleigh clinic today. At Osborne Chiropractic Clinic we are building a reputation built on honesty and results.
Education
We choose to educate our patients about the cause of disease as well as the treatment necessary to restore health through proper spinal function. Educated patients provide a strong foundation for a successful doctor/patient relationship. The atmosphere is then optimum for healing to occur. Chiropractic is one of the fastest growing health profession in the world. It is our duty to keep informed of the most advanced, effective and safe methods of chiropractic care. The doctor and staff regularly attend continuing education classes to keep on the cutting edge of modern health care.
Gentle Low Force Technique
The methods of treatment we use are gentle, low force techniques to keep the patient's comfort a primary objective in our therapeutic considerations. Our extended hours and easy payment plans are designed to make compliance to a program relaxed. Our personal philosophy is that we will not only provide relief for your discomfort, but also coach you to prevention of disease and a high level of wellness.
Head
You must feed your head with an immense amount of information. The learning process will never stop. Among the things you must learn is the actual physical skill of becoming a chiropractor.
Hands
Chiropractic is the practice of shifting misaligned bones and joints into a more normal or proper alignment. I have spent years developing a gentle but extremely effective hands on method of chiropractic.
Heart
Neither acquiring knowledge in your head, or perfecting the chiropractic skill with your hands can be done without having a heart filled with passion. From my first experiences with chiropractic to my in depth studies, my passion has only grown.
Meet Dr. Bryan Osborne, D.C.
Dr. Bryan Osborne, D.C., the principal of the Osborne Chiropractic Raleigh Clinic, has completed his undergraduate requirements at Marshall University, and his chiropractic education at the prestigious Palmer College of Chiropractic. He is a chiropractor certified by the National Board of Chiropractic Examiners and is licensed by the State of North Carolina Board of Chiropractic. Dr. Osborne's adjusting technique is well rounded to serve patients of all ages and sizes.
"This is a profession that I am extremely proud of, and am thankful everyday that this is what I choose to do with my life. I do not view being a chiropractor as a job, but more so a career, and my attitude in the office will echo this everyday."

If you suffer from pain due to an auto accident injury, a work injury, a sports injury, arthritis, headaches or many similar ailments, we can help. Our Raleigh clinic is uniquely designed to offer relief to families, children and individuals suffering from:
BCBS, AETNA, UMR, UHC, Medcost, Medicare, Humana, Cigna, VA Choice Program, 3rd Party Liability.
All Major Credit Cards and Care Credit.
Raleigh Chiropractor Office Tour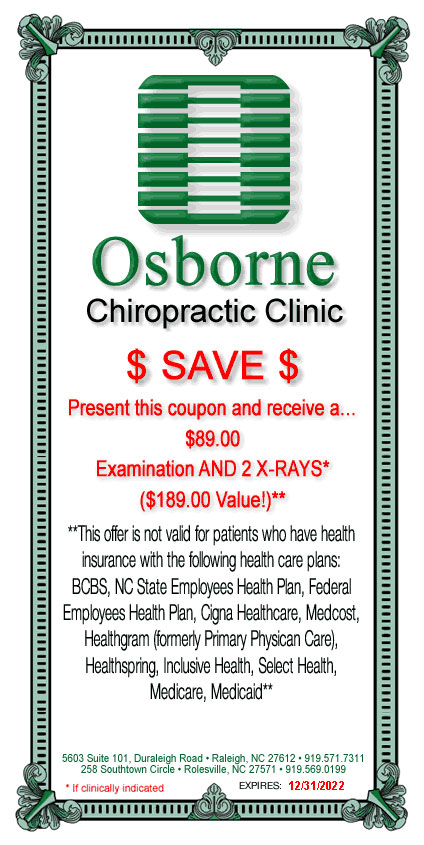 Raleigh Chiropractor Blog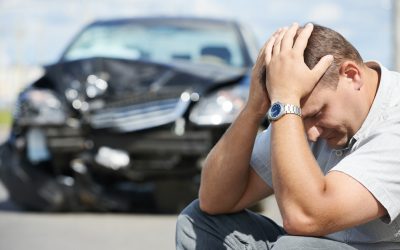 The Benefits of Chiropractic Care After a Car Accident If you live in the area around Raleigh, Durham, and Chapel Hill, then you know how bad traffic can get on Interstate 40. This can lead to a serious car accident at almost any time. If you have been hurt in an auto...
read more
RALEIGH CHIROPRACTOR FAQs
What is the difference between a Chiropractic Doctor and a Medical Doctor?
It takes eight years of education and training to become a Doctor of Chiropractic. The Doctor of Chiropractic first completes pre-chiropractic studies at a college or university. The Doctor of Chiropractic studies all the basic sciences and must pass the State Board of Examiners' basic sciences examination. This is the same basic sciences examination other doctors, including MDs, are required to pass. He or she attends a college of chiropractic for four years, which must include an externship at an outpatient clinic where he or she gets real world experience in a clinical and academic setting. After graduating from Chiropractic College, like an M.D., he or she must pass the State Board Exam in the state he or she wishes to practice in.
Do Chiropractors prescribe drugs or surgical procedures?
No drugs, medications, or surgeries are performed by the Doctor of Chiropractic. Doctors of Chiropractic focus on restoring proper function as a way of pain relief and optimal health. In many cases, drugs are used to cover up your pain but do nothing to "fix" the cause of your problem.
I've been to many doctors for my condition and no matter what they do, I don't get better. Why would going to a Chiropractor get me better?
A misalignment of one or more of the 24 movable bones or "vertebrae" of your spine can irritate or cause pressure or pinching on spinal nerves and result in a serious health-robbing, damaging interference (irritation or blockage) to normal nerve control of your body. Since the brain controls all parts of your body through the nervous system, this nerve interference can cause pain and many health problems. It can also lower your body's resistance so that you become even more susceptible to contagious and infectious illness and disease. Therefore, if your problem is caused by a misalignment of one or more of the bones of your spine, only chiropractic care will get you better.
How long does the initial examination take?
The initial exam will take 60-90 minutes, maybe a little more if x-rays or any other diagnostic procedures are necessary.
Will I have to disrobe?
Rarely does the doctor need a patient to expose his or her back. If you are a male, this means that you may have to take your shirt off. If you are a female this means that you may need to wear a gown over your bra that will cover up the front, and only expose the back of your neck, down to your lower back.
Does Chiropractic care hurt?
Compared to going to the dentist, or getting a deep tissue massage, Chiropractic care is virtually painless! We explain everything before we do it. At your first visit feel free to talk to any of our patients; you'll be happy with what you hear!
Do I have to go to a Chiropractor forever once I begin care?
Like regular dental check-ups, once patients experience the value of chiropractic, many will choose to continue on a maintenance schedule to prevent future problems. However long you decide to benefit from chiropractic is always up to you.
What's the biggest mistake people make when considering going to a Chiropractor?
That's easy. The biggest mistake is following the path of futile efforts of pain relief you've been following that you know don't work… and continue with them hoping some miracle will occur magically changing a proven failure, into a successful result! In fact, one definition of insanity is: Doing what you've always done that doesn't work… and expecting different results! So, the biggest mistake is to stay with treatment that does not solve the underlying cause of your pain without drugs or surgery, and that still causes you to suffer. Why not try a different, proven and scientifically substantiated method of health care that works WITH your body and its natural health restoration system? Why not give the fastest growing health care profession a shot? What have you got to lose except a few minutes of your time… and the pain you've been living with as your constant companion?
Raleigh Chiropractor Testimonials
I LOVE Dr. Osborne! He and his staff are friendly…I always receive a warm welcome. I call him the man with the magic hands LOL….He knew exactly what I needed and has a gentle but firm touch. I will continue to bring my business to him for routine maintenance.
Dr. Osborne is a gifted chiropractor and his office is extremely well run. His staff are likable and competent. I have been to various chiropractors over the years for everything from car accidents to sports injuries. I like Dr. Osborne because he listens to what you tell him as well as making his own judgements based on examination. His adjustments are gentle yet very effective. What really impressed me was when he suggested exercises to strengthen my core so that I wouldn't need his services as often. He taught me the exercises himself and I am in much stronger now than before I met him. I am not a person who typically writes reviews but in this case, it is well deserved. If you are unsure of whether to go to a chiropractor or worried because you have heard horror stories, just go talk to Dr. Osborne and see what you think. Personally, I think he has a gift and I am glad that I found him!
Life changing experience! I was having daily neck and back pain, constantly trying to self-treat. It took a few months of consistent visits to Dr. Osborne, but I'm feeling amazing and can finally sit through a day of work without feeling pain. Super quick visits as well so it was easy to work into my busy schedule, and they were accommodating when I had to reschedule or miss a few appointments.
I have been going to Dr. Osborne for a few years due to chronic tailbone/lower back pain. I had several pain injections, physical therapy, etc. to try to treat the problem to no avail, until I decided to try a chiropractor. After going regularly for a few weeks, my pain improved and now I go for maintenance visits to keep my back in line. Dr. Osborne and his staff are very friendly and caring. They listen to your needs and work to find the best plan for you.
After I had my baby, my upper back, lower back, hips, tailbone and neck were hurting so much that I could hardly stand up for more than five minutes without pain. I was having headaches several times a week. It hurt to walk, sit, drive, hold my baby, sleep…I was hurting all the time. I emailed Dr. Obsorne's office at 2am on Sunday desperate for help, and they scheduled an appointment for me the very next day. I limped into the office that morning, and after my first session, I was able to walk out of the office and back to my car in less pain. With each visit, I am feeling better, stronger, and healthier. I haven't had a headache in almost two months. I'm still in the middle of my treatment, but I have worked my way up to walking two miles a day without pain. Dr. Osborne has given me back my life. His techniques, advice, and recommendations for stretches and exercises have been invaluable towards my recovery. I highly recommend Dr. Osborne and his staff. His employees are friendly and courteous, and I always feel welcomed and well cared for.
After a finger ligament injury resulting from practicing sports, I was very fortunate to find Dr Osborne's Clinic. I first had tried different treatments without success ; my condition even deteriorated and became a main problem since I am a piano teacher.
The condition of my finger started to improve immediately after the first visits and continued to improve.
Now, after 3 months of regular treatment, I am so happy to be able to play as before. I am very grateful to Dr Osborne (and his staff) for his kindness and professionalism.
I sought help from Dr Osborne on the recommendation of my husband who had achieved 100% relief of migraine headaches through his treatment. I had new neck pain and chronic low back pain that I didn't really expect any relief from. How ever….even though I am still just in the active treatment phase I have achieved 100% pain relief in the neck AND, the lower back (which I see as miraculous), 9 days out of 10. Every member of the staff is pleasant and caring, making for one of the most pleasant and effective medical treatments I've ever had.
Don't be afraid and don't have surgery without consulting Dr. Osborne first !
Review Us Online
If you are satisfied with our services and would like to leave us an online review, please do so below.